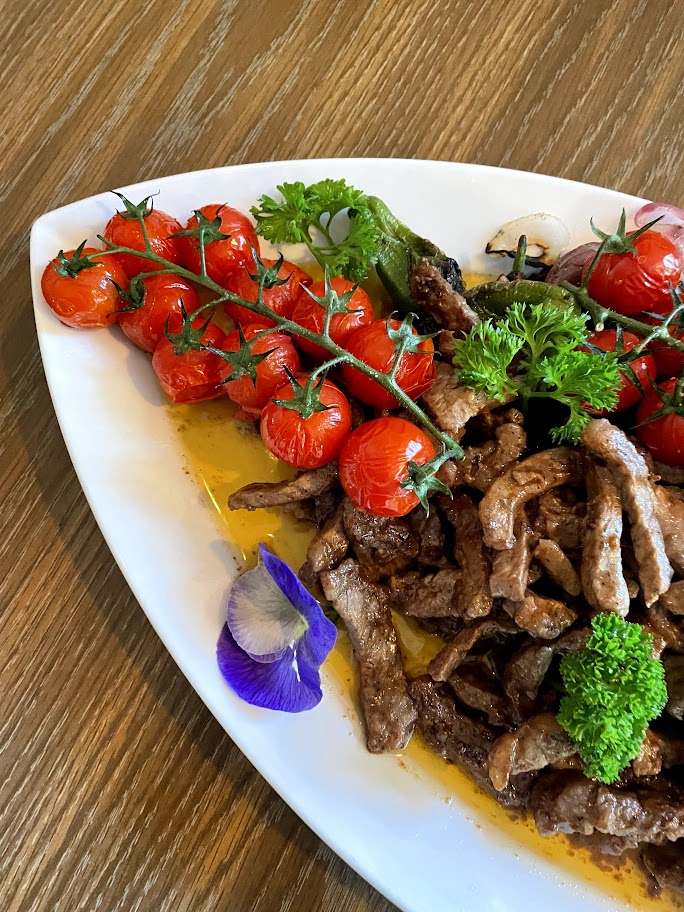 Are you ready to try the different shawarmas from our Chef Mohamed? If so, read on and be enchanted by the oriental aromas and flavors!
Shawarma is a traditional Middle Eastern dish that has been enjoyed for centuries.
The magic of Shawarma lies in the fine spices and the long marinating of the ingredients. Chef Mo has created his own version of this traditional dish that will delight meat lovers, vegetarians and vegans alike.
At SimSim, we offer different types of shawarmas. Our Poulet Shawarma consists of tender, oriental marinated chicken meat, while our Beef Shawarma consists of marinated beef served with onions and tomatoes.
The vegetarian and vegan versions are also prepared with the same care and are just as delicious as the meat shawarmas. For vegetarians and vegans, we also offer a vegi version served with tender roasted vegetable strips and a mint yogurt sauce. If you prefer a vegan option, try our Vegan Shawarma with tender roasted vegetable strips and an avocado sesame sauce.
All of our Shawarmas are served with a small salad, hummus and your choice of side – either fries, sweet potato fries or rice. You can also choose to have your shawarma served as a platter or as a sandwich with pita bread.
At SimSim, we only use 100% Swiss meat. We believe that quality and sustainability are important, and that's why we pay attention to the origin of our ingredients.
So, stop by and try one or more of our delicious shawarmas! We look forward to welcoming you to our place.